Discover more from WorkWithAI.com's Daily Newsletter
We help you work with AI, in just 5 min a day. Get all the best info about the AI revolution delivered daily to your email, for free!
Introducing Dolly 2.0, the Worlds First Truly Open-Source Generative AI Model
⚡ Today's Highlights
📰 News: Introducing Dolly 2.0, the worlds first truly open-source generative AI model

💰 Funding: Raspberry Pi, Rupert, Xapien, Companion, and Pitstop

🦾 Tools: Your very own browser-based AutoGPT Agent and task-specific AI apps that are customizable and scalable

📅 Events: The Stable Diffusion AI Hackathon starts tomorrow (April 14)!
---
📰 Today's Top Stories
(9 min read) (Source: Databricks)
TLDR: Yesterday, Databricks announced the release of Dolly 2.0, an open-source AI text-generating model that is licensed to allow independent developers and companies to use it commercially and can be used to power applications like chatbots and search engines.
It's named after Dolly the sheep, the first cloned mammal, because it's an open source clone of an Alpaca, inspired by a LLaMA.

The model was trained on an open-source text-generating model called GPT-J-6B, provided by the nonprofit research group EleutherAI.

While Dolly 2.0 provides a significant boost to text generation capabilities, it has some limitations that developers should be aware of. For example, it can generate toxic or offensive language and may produce inconsistent factual responses.

Dolly 2.0 is intended for simplistic applications, such as responding to customer support tickets, extracting information from legal briefs, and generating code based on a technical prompt.
The Big Picture: Overall, Dolly 2.0 represents an important step forward in the development of open-source AI text-generating models that can be used by independent developers and companies to power a wide range of applications. However, it is important to use such models responsibly and ensure that they are used to enhance human productivity and not to cause harm.
(4 min read) (Source: POLITICO)
TLDR: On Wednesday, Garante gave OpenAI until April 30 to comply with specific privacy requirements to resume the chatbot service in Italy after it was banned a few weeks ago.
Garante outlined a set of demands to be met by the end of April, which includes an information campaign via Italian media to inform people how OpenAI uses their personal data to train its ChatGPT algorithm.

The watchdog also required OpenAI to provide tools to enable people, including non-users, to request the correction of personal data inaccurately generated by the service or its deletion, if a correction is not possible.

OpenAI must also introduce an age verification system capable of excluding users under 13 by the end of September.

Garante will continue investigating potential breaches of data protection rules by OpenAI, reserving the right to impose any other measures needed at the end of its ongoing probe.
(2 min read) (Source: Reuters)
TLDR: Nvidia Corp announced yesterday that it will be releasing a new mid-range chip for gamers called the RTX 4070 which will cost $599 and be available for shipping today.
This will be the cheapest chip available that uses Nvidia's newest AI technology to predict what about seven out of every eight pixels on the screen should be, including generating entire frames using AI.

The chip will be replacing the RTX 3060, which is currently the fourth most popular gaming chip on the market according to survey data from game distribution platform Steam.
(4 min read) (Source: Financial Times)
TLDR: Universal Music Group has requested Spotify and Apple to block AI services from scraping melodies and lyrics from their copyrighted songs.
UMG is concerned about AI bots using their songs to train themselves to create music that sounds like popular artists, leading to AI-generated songs appearing on streaming services.
---
💰 Funding Alerts
---
🦾 Trending Tools
---
👀
More Reading
---
🌎 Fresh Content
1. Kate Soule of IBM Research explains what generative AI models are, their advantages and disadvantages, the costs they require to operate, and the massive potential they hold in many different domains. (YouTube) 
2. Amanda Wasielewski, author of Computational Formalism, joins the Practical AI podcast to discuss the overlap that has been created between art historians and computer scientists and how generative AI is becoming an incredibly important tool that may redefine many artistic mediums. (Changelog)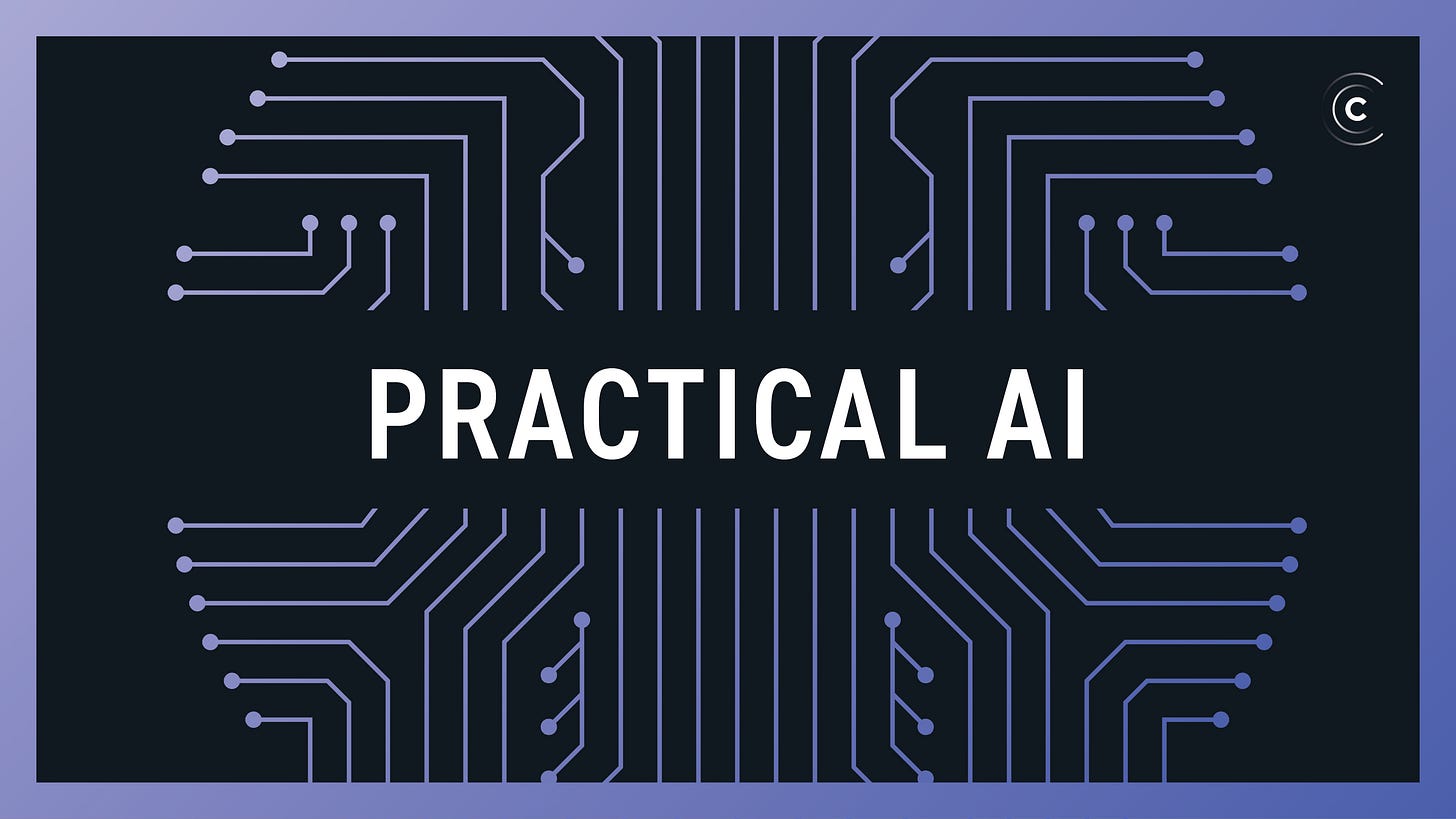 Computer scientists as rogue art historians with Amanda Wasielewski, author of Computational Form...
What can art historians and computer scientists learn from one another? Actually, a lot! Amanda Wasielewski joins us to talk about how she discovered that computer scientists wo...
3. Investing legend Warren Buffett provided his impression of AI, stating that it's extraordinary but he's not sure if it's beneficial yet. (YouTube)
---
 📅 Upcoming Events
The Stable Diffusion AI Hackathon starts tomorrow (April 14 - 21, 2023), a 7-day hackathon in which participants must develop a product that leverages the power of Generative AI to solve real-world problems. To participate in the hackathon, you must create the solution using Stability.AI API and Vercel software. 1st place wins $5000 USD, 5000 API tokens, and a virtual coffee chat with @hardmaru!

The Future of Chatbots and Conversational AI Summit (April 18, 2023, 9:00 AM BST / Doubletree By Hilton London - Kingston Upon Thames, London, UK) is a networking event featuring groundbreaking keynotes, innovative case studies, and panel discussions. The unique industry forum is made up of senior representatives from leading organizations, innovative startups, governments, and universities worldwide who are key decision-makers. It aims to discuss issues and explore best practices, including artificial intelligence platforms, natural language processing, and speech-optimized responses.

Check out the AI in Finance Summit New York (April 20-21, 2023, etc.venues - New York, NY) and discover unique insights and technical use cases from AI specialists and data scientists across Banking, Financial Services, and Insurance sectors.
---
🧠 Resources
Supercharge your online presence with today's AI prompts! Our goal is to make difficult tasks easier and more efficient for you. Don't worry if you're not an 'AI Whisperer,' give them a try and let us know what you think. We're excited to hear your feedback! Remember, these prompts are just a starting point. Tailor them to fit your needs and carefully review the outputs to ensure their accuracy and effectiveness. Let's get started!
Marketing Campaign Outliner 
Develop a marketing campaign that identifies a problem, proposes a solution, and persuades the reader to take action. 

Prompt: "Using the 'Situation-Complication-Resolution' framework, create a marketing campaign outline that presents a challenging situation faced by your ideal customer persona, discusses the complications that arise from this situation, and presents your product or service as the solution to the problem. End with a call to action that encourages the reader to take advantage of your solution."
Emotional Persuasion Generator 
Create a persuasive text that elicits specific emotions from your ideal customer and encourages them to take action. 

Prompt: "Generate a text that will evoke a specific emotion from your ideal customer persona and motivate them to take action. You will need to convince them to take the desired action and feel a particular emotion about your product or service. Specify the type of text you want to create and provide details about the desired emotion and action."
Instagram Storyteller 
Use the relatability of your brand to create an engaging Instagram story that prompts your ideal customer to take action. 

Prompt: "Develop an Instagram story that leverages the authenticity and relatability of your brand to engage your ideal customer persona and persuade them to take action. Provide details about your brand, the desired action, and the emotions you want to elicit from your audience."
---
That's all for today's email! If you want more please follow us at the social channels linked below, or check out our website!
Share our newsletter: If you like our work please share/forward this email with your friends, colleagues, and family. It's the best way to support us!
If this email was forwarded to you please sign up here to continue receiving them.
Want your content, product, jobs, or event featured in our newsletter? Reply to this email with the details, and our team will reach out to you.
Do you use AI for work? Tell us how, and you could be featured in our newsletter!
Check out our website for more resources, including a list of AI investors, products, events, and twitter follows. 
For an archive of all our posts, click here.
We'd love to hear from you! You can always leave us comments or feedback by replying to this email!
Powered by AI. Curated and edited by Humans.
---